Dental Crown Dentistry

in Rock Hill
A crown covers or "caps" a tooth to restore its shape and size. Dental crowns are used to repair teeth that have been severely decayed, filled, or fractured or teeth that have had a root canal. It is a non-removable prosthetic tooth attached to implants or natural teeth. Crowns have esthetic, reparative, and structural purposes. 
Dr. Areheart may suggest a crown in the following situations:
RESTORATION OF FRACTURED TOOTH
Fractured teeth cannot self-heal. Untreated, they might create a toothache or loss of the tooth itself.   When fractures are treated early enough, root canals can be avoided in many cases.  Crowns on broken or cracked teeth can prevent further damage and restore bite.
CAMOUFLAGE A MISSSHAPE OR DISCOLORED TOOTH
Crowns are frequently used to conceal discolored or misshaped teeth. All crowns are custom-made to fit your other teeth almost flawlessly.
A ROOT CANAL TOOTH
Infected nerve tissue and pulp in the tooth root canal require a root canal. Crowns can cover treated teeth to restore function and strength and prevent breakage.
BRIDGE DETAILS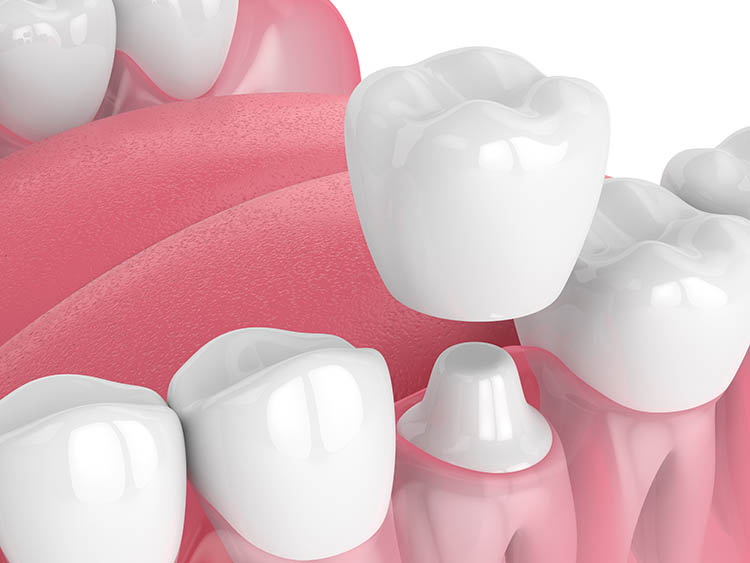 A bridge can replace a lost tooth. A bridge is a row of crowns that hold a replacement tooth in place. Not all patients are candidates for dental implants, which entail surgical installation of a replacement tooth.  Sometimes, a bridge can be a good solution to replace a missing tooth.
CROWNS FOR DENTAL IMPLANT
Crowns and dental implants can be used together to create an attractive smile and functional bite.  The crown is fabricated to screw into the implant itself.
LARGER FILLING COVERAGE
Larger fillings might weaken the tooth wall and cause fractures. Putting a crown over the big filling protects the tooth walls and prevents future damage.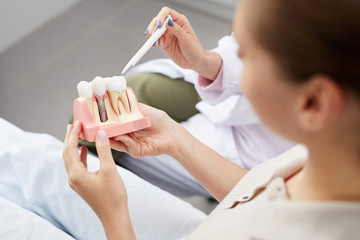 There are benefits and drawbacks to each type of crown material; our dentist will gladly discuss them with you during a private consultation.
Crowns can be made of gold, porcelain, or zirconia. A gold crown requires less tooth reduction and has the best longevity, however not all patients like the gold hue. A crown made of porcelain or zirconia is incredibly robust and can be color-matched to your teeth for a natural look. The most durable crown depends on which tooth is being treated.  A porcelain or tooth colored crown can last many years with good hygiene and care.  All of the crowns that are used in Piedmont dental require two separate appointments.
First, the tooth is refined to remove tooth structure to fit the crown appropriately. Dr. Areheart will take an impression of the tooth with a digital scanner.   If you pick a porcelain crown, the shade will be precisely matched to the surrounding teeth.
The digital impression is sent to a dental lab, which creates the crown from your chosen material. In the meanwhile, temporary crowns will be used to cover the decreased tooth. When ready, the temporary crown is removed and the permanent crown is cemented in place.
While smaller issues can be repaired with dental bonding or a composite restoration, larger dental problems may necessitate a crown. A crown may be the best approach for restoring a healthy, beautiful, and confident smile if you have deep, extensive decay or physical injuries to the tooth. Remember that a crown requires some tooth removal or reduction, therefore the foundation must be strong enough to hold the crown.  Dr. Areheart can tell you after an evaluation if you are a good candidate for a dental crown. If so, they will gladly propose a treatment to give you a gorgeous smile you can be proud of.
SCHEDULE YOUR APPOINTMENT
Get the smile you deserve. At Piedmont Dental, we serve family members of all ages, that include professional pediatric dentistry. Use the contact form to schedule your appointment and one of our staff members will be in touch ASAP!
Show The World Your Smile Call Today.
(803) 328-3886